Jimmy teased us with some beautiful footage of Skyline Drive earlier in the week which got us talking about the colors of the leaves this Fall. They're bright, vibrant, and according to The Maryland Department of Natural Resources, they're the best Fall colors this area has seen in YEARS
Don't leave your dog outside in the cold. It is a simple but important message… Common sense, really. So why in the world does it still happen? J. C. Richardson is with us from Delmarva K9 to elaborate.
It's safe to say that people are ready to say goodbye to 2020, but there are many things that need to be accomplished before we ring in the new year. One of them is to take a long, hard look at our health insurance, even if you don't currently have any. Whether you are insured or not, there's  free help to navigate through the process of enrolling in an affordable plan. That is the subject of today's Wellness Wednesday with The Worcester County Health Department.

People helping people, it's one of our favorite things to highlight on this show. And fortunately, we get many opportunities to do so. Avery Hall Insurance is an agency that stands out because of their willingness to support the nonprofits that keep our peninsula strong. Katie finds out who's benefiting from "Avery Hall Gives Back" this quarter.
It's that time of year when the sun slips away into the late afternoon… Daylight savings time is upon us, and with it becoming dark earlier, deer will be harder to spot on the roads. We're taking some time this afternoon to learn about deer and their behavior this time of year in order to stay safe behind the wheel.
It's tough when you're a kid after coming home from trick or treating and you have to wait while your parents sift through the candy before you can dig in… but how many times have they found questionable items mixed in with the haul? Joel Best, Professor of Sociology and Criminal Justice at The University of Delaware, joins us today to explain "Halloween Sadism".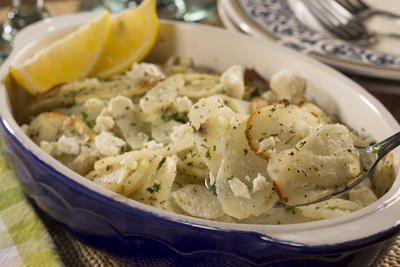 This easy potato recipe gets its classic Greek flavors from some crumbled feta, olive oil, and other fresh herbs.
What You'll Need
1

/3 cup olive oil
1 teaspoon dried basil
1 teaspoon dried oregano
1 teaspoon garlic powder
1 teaspoon salt
1 (20-ounce) bag refrigerated potato slices
1 tablespoon lemon juice

1

/4 cup crumbled feta cheese
What to Do
Preheat oven to 400 degrees F. Coat a 2-quart baking dish with cooking spray.
In a large bowl, combine the oil, basil, oregano, garlic powder, and salt; mix well. Add potatoes and gently toss until evenly coated. Place in baking dish.
Bake 35 to 40 minutes, or until potatoes are golden. Drizzle with lemon juice, sprinkle with feta cheese, and serve immediately.
Notes
For an extra special touch, grate a bit of lemon peel over the potatoes just before serving.
Make it a night in Greece by adding our Easy Moussaka to your dinner spread!