Today on DelmarvaLife –
I'm sure you're looking forward to the wonderful memories made around the Christmas tree this holiday season. That's why it's crucial to pick a tree that is just perfect. We know just the person to help you out. We talk with Gardening Expert, Ginny Rosenkranz, about the art of the bounce.
Consider it a Christmas gift for the wildlife on Delmarva. Thanks to an eighty-acre Wetland Restoration Project…migratory shorebirds, native pollinators, rare and declining reptiles and amphibians will all benefit. We talk with Executive Director of Delaware Wild Lands, Kate Hackett, about the restoration project.
Gorgeous granite, killer quarts, majestic marble – perhaps, adding something like this to your kitchen or bathroom would really help it feel set in stone? Say no more. That Granite Place in Bridgeville has some exciting new technology that's allowing them to get jobs done more efficiently and effectively.
From the kitchen to the closet. Turns out, running a business is a family affair. Victor Bautista of That Granite Place, his daughter, Nariha is in charge of Coastal Closet Designs. Katie met up with her to learn all about the world of wardrobes.
There's something about riding a horse – something that is calming. A horse can certainly have healing powers. So, it just makes sense that for more than 30 years now, one team in Sussex County has been using horses as therapy for people on Delmarva. We talk with Kelly Boyer and Lori Chaikin, Representatives of Southern Delaware Therapeutic Riding, about some of the impacts COVID-19 has had on the program.
You want to go on a bike ride but, problem is pushing the pedals seems a little daunting. Have you ever considered an electric bike? 102-5 WBOC's Corey Phoebus visited Pedego Ocean City to learn about bikes made to fit you!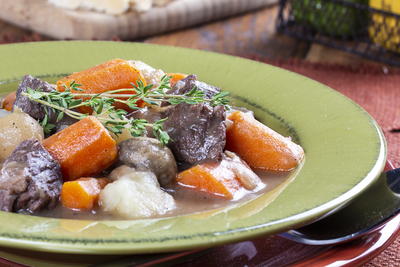 A French classic inspired by Julia Child,
Beef Bourguignon
is perfectly tender, full of fresh vegetables, and complimented by a rich sauce. The dish sounds fancy, but it is super easy to make. Check out the recipe below:
What You'll Need
1 teaspoon dried thyme
1 teaspoon black pepper
3 pounds boneless beef chuck, cut into 1-1/2-inch chunks
2 tablespoons vegetable oil
5 

1

/4 cups beef broth
1 cup Burgundy or other dry red wine
3 cloves garlic, minced
3 carrots, peeled and cut into 1-1/2-inch chunks
2 potatoes, peeled and cut into 1-1/2-inch chunks
8 ounces fresh mushrooms, cut in half
1 cup pearl onions

1

/4 cup water
2 tablespoons all-purpose flour
What to Do
In a large bowl, combine thyme and pepper. Add beef chunks and toss to coat.
In a large pot over medium heat, heat oil until hot; add beef and brown 8 to 10 minutes, stirring occasionally. Add broth, wine, and garlic.
Reduce heat to low, cover, and simmer 45 minutes, stirring occasionally. Add carrots, potatoes, mushrooms, and onions; cover and continue cooking 30 minutes or until meat is tender, stirring occasionally.
In a small bowl, combine water and flour (this is called a slurry–see, you learned something new today); gradually stir mixture into stew. Continue cooking, uncovered, an additional 5 minutes or until sauce is slightly thickened, stirring occasionally.
Check This Out!
You have an opportunity to help local families that are struggling to make the holidays happy this year. WBOC's Bless Our Children campaign is underway. We've already raised more than 24,000 dollars, but with a year like 2020 – a lot of families need help. If you'd like to donate, send us a card with a check to 
Bless Our Children in care of WBOC or donate online at WBOC.com.
 From the bottom of our hearts – we thank you for giving during such a difficult year.