Today on DelmarvaLife –
You can be in an accident, witness something bad happen to someone else, you can lose someone very dear to you. Any of these experiences and countless more can have lasting effects on your life. In some cases, you may not tie those effects to the event that caused them. It's called trauma; and whether it's big or small, there is help. That's the subject of today's Wellness Wednesday with the
Worcester County Health Department
.
Help is here for poultry growers here on Delmarva that were hit hard by the COVID-19 pandemic. Michael Scuse, Secretary with
The Delaware Department of Agriculture
is with us to talk about the grant money available to help recover and continue providing food for families all over the peninsula.
Get out and get active before you assemble at the dinner table this Thanksgiving. There's a new Thanksgiving tradition that's really catching on. Amy Sorg, Branch Associate Executive Director for the YMCA of the Chesapeake talks with us about this year's Turkey Trot. To sign up, click
HERE. 
Gay Maratta and Helene Porreca with
Marine Toys for Tots Foundation
stop by to talk about this years Kickoff Event and how you can make the holidays brighter for families across Delmarva. To donate, click
HERE. 
Nutrition Educator Kelly Williams is here to show us how to make Stuffed Pepper Jack-O-Lanterns that are sure to satisfy your Halloween hunger.
Recipe:
1 lb boneless chicken
1 jar favorite salsa
1 can black beans, rinsed and drained
2 t taco seasoning
Salt & pepper, to taste
6 orange bell peppers
1 c shredded cheese (optional)
Optional: rice, quinoa, or corn
Spray the insert of a slow cooker with cooking spray, put chicken breasts or thighs in the bottom and cover with salsa. Cook on low for approximately 4 hours or until cooked through.
Remove from slow cooker and shred chicken. Combine black beans, taco seasoning and if desired, corn/rice/quinoa.
Cut the top off of the bell peppers and remove the seeds and inner membranes. Carefully slice the bottom of the peppers, if necessary, to give them a flat base so they stand upright.
Using a small paring knife, cut eyes, nose, and mouth into the side of the bell peppers. Fill the cavity of the peppers with the chicken & bean mixture.
To cook in the oven: Place peppers in a glass baking dish so they fit snugly. Pour about 1/2 cup of water into the bottom of the dish. Place in a preheated 350* oven for about 20-25 minutes. About halfway through, sprinkle cheese on top of peppers, if desired.
To cook in the slow cooker: Return peppers back to the slow cooker with about 1/2 cup of water and cook on low for 2-3 hours. Sprinkle with cheese in the last 30 minutes of cooking time.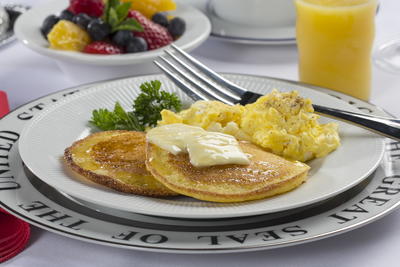 What You'll Need
2 cups yellow self-rising cornmeal
1 

1

/2 teaspoons baking powder

1

/4 teaspoon salt
2 eggs, beaten

3

/4 cup buttermilk

1

/2 cup water
2 tablespoons vegetable oil plus extra for cooking
Honey for garnish
Melted butter for garnish
What to Do
In a large bowl, combine cornmeal, baking powder, and salt; mix well. Stir in eggs, buttermilk, water, and 2 tablespoons oil until combined.
Heat a griddle or skillet over medium heat. Heat 1 tablespoon oil, then pour 1/8 cup batter per pancake on griddle. Cook 1 to 2 minutes, or until bubbles start to form on top of each pancake. Flip pancakes and cook 1 more minute, or until golden.
Repeat with remaining batter, adding more oil as needed. Drizzle with honey and butter before serving.