What's Happening Today – October 22, 2020
DVL1898F.00_06_28_17.Still001
Today on DelmarvaLife –
Kalin the Newsbreaker stole our hearts back in the spring when he showed us his thoughtful Mother's Day gift. He's back and helping us with Halloween. Plus he's showing us some of his furry friends.
Managing your money can be very stressful, so choosing the right financial advisor is crucial. That is why Mitchell Financial Services is here to keep people on the peninsula free of financial burdens so they can sleep better at night. Katie Zarrilli tells us more.
One of the first things a chef needs to learn to work in a professional setting is knife skills. That's why one local culinary teacher starts her students on this skill while they're young… VERY young.
Chef Jesus Valentino Giordany from Benevenuto Restaurant in Milford is here. He's making Shrimp and Crab Stuffed Portobello.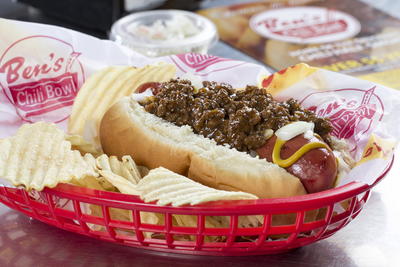 Mr. Food's recipe for Ben's Chili Dog is the next best thing to the real version, and your family is going to devour it.
What You'll Need
1 pound ground chuck beef

3

/4 cup finely chopped onion
3 tablespoons chili powder
1 

1

/2 teaspoons ground mustard
1 teaspoon ground cumin
1 teaspoon garlic powder

1

/2 teaspoon salt

1

/4 cup tomato paste
1 tablespoon all-purpose flour
2 tablespoons apple cider vinegar
1 

1

/2 cups chicken broth
1 tablespoon butter
6 hot dogs
6 hot dog rolls


What to Do

In a large skillet over medium heat, cook beef, onion, chili powder, mustard, cumin, garlic powder, and salt 8 minutes, or until beef is browned, stirring occasionally. Stir in tomato paste, flour, and vinegar; mix well. Add broth and cook 20 minutes, or until mixture has thickened.
Meanwhile, in a large skillet or griddle pan over medium heat, melt butter; cook hot dogs 5 to 8 minutes, or until heated through. Place hot dogs on rolls, top with chili sauce, and serve.

HOT TOPICS

OC-tober Fest kicks off tomorrow night in Ocean City near North Division street with a fireworks display beginning at 7pm and a giant Beach Maze set up on Saturday and Sunday. The Howl-O-Ween Pet Parade will happen at 1pm on Saturday on the boardwalk near N. Division street. For all of this and more info click HERE

With all of the cancellations happening this year, they are trying to keep the spirit alive in Sussex County with the Annual Christmas Parade. This December 12th the theme will be A Sussex County Christmas. Its still a ways off but you can register to be a part of it right HERE

The Salisbury area Chamber of Commerce Beautification Committee is hosting a Salisbury Riverwalk Clean-Up day from 9-11am this Saturday(All supplies provided) Register for more info HERE